Best 
heartgard

 for dogs is necessary

Best heartgard for dogs : As a responsible pet owner, you know the importance of maintaining your pet's overall health. Not only does your pet need the basics like a healthy diet and exercise, but your pet also needs protection against dangerous internal parasites such as heartworms, roundworms, and hookworms. Using a monthly heartworm preventative like Heartgard Plus can help prevent heartworms while also controlling roundworms and hookworms.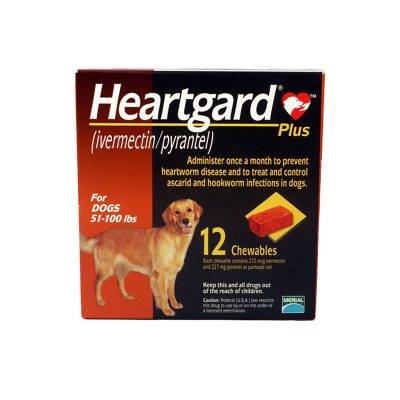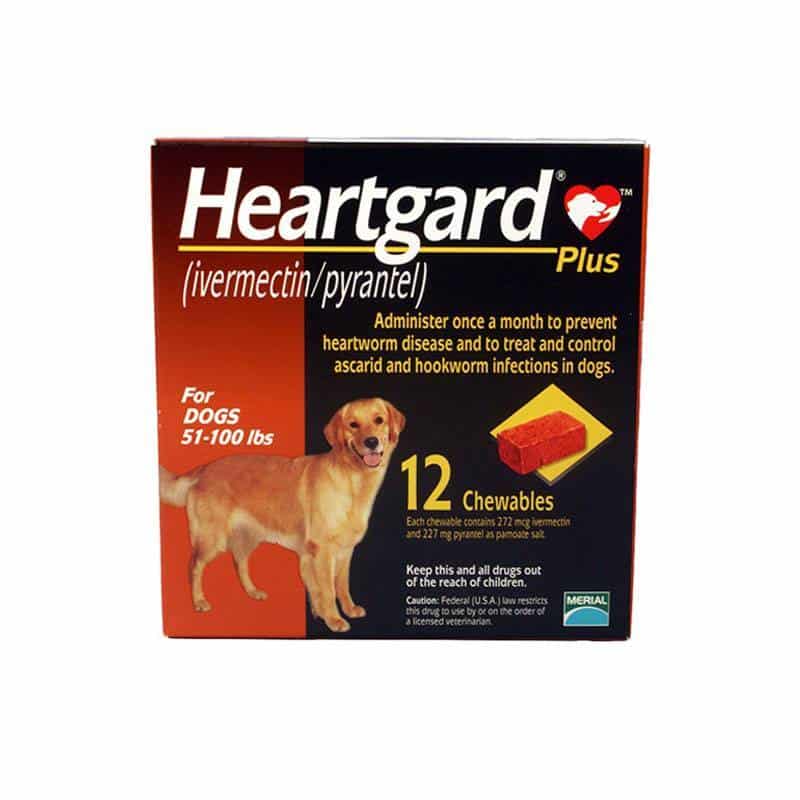 Heartgard

for dogs benefits:
Monthly chewable
Prevents heartworm, roundworms, hookworms
Made with real beef
Safe for puppies 6 weeks and older
Available in flavored and unflavored
Good for use as a heartworm treatment, as well as a preventative
HEARTGARD Plus is recommended for dogs 6 weeks of age and older. For dogs over
100 lb use the appropriate combination of these chewables.
EFFICACY:
HEARTGARD® Plus (ivermectin/pyrantel) Chewables, given orally
using the recommended dose and regimen, are effective against the tissue larval
stage of D.immitis for a month (30 days) after infection and, as a result, prevent
the development of the adult stage. HEARTGARD Plus Chewables are also effective
against canine ascarids (T. canis, T. leonina) and hookworms (A. caninum, U.
stenocephala, A. braziliense).
ACCEPTABILITY:
In acceptability and field trials, HEARTGARD Plus was shown
to be an acceptable oral dosage form that was consumed at first offering by the
majority of dogs.
PRECAUTIONS:
All dogs should be tested for existing heartworm infection before
starting treatment with HEARTGARD Plus which is not effective against adult D.
immitis. Infected dogs must be treated to remove adult heartworms and microfilariae
before initiating a program with HEARTGARD Plus.
While some microfilariae may be killed by the ivermectin in HEARTGARD Plus at the
recommended dose level, HEARTGARD Plus is not effective for microfilariae clearance.
A mild hypersensitivity-type reaction, presumably due to dead or dying microfilariae
and particularly involving a transient diarrhea, has been observed in clinical trials with
ivermectin alone after treatment of some dogs that have circulating microfilariae.
Keep this and all drugs out of the reach of children.
ADVERSE REACTIONS:
In clinical field trials with HEARTGARD Plus, vomiting or
diarrhea within 24 hours of dosing was rarely observed (1.1% of administered doses).
The following adverse reactions have been reported following the use of HEARTGARD:
Depression/lethargy, vomiting, anorexia, diarrhea, mydriasis, ataxia, staggering,
convulsions and hypersalivation.
SAFETY:
HEARTGARD Plus has been shown to be bioequivalent to HEARTGARD,
with respect to the bioavailability of ivermectin. The dose regimens of HEARTGARD
Plus and HEARTGARD are the same with regard to ivermectin (6 mcg/kg). Studies with
ivermectin indicate that certain dogs of the Collie breed are more sensitive to the
effects of ivermectin administered at elevated dose levels (more than 16 times the
target use level) than dogs of other breeds. At elevated doses, sensitive dogs showed
adverse reactions which included mydriasis, depression, ataxia, tremors, drooling,
paresis, recumbency, excitability, stupor, coma and death. HEARTGARD demonstrated
no signs of toxicity at 10 times the recommended dose (60 mcg/kg) in sensitive Collies.
Results of these trials and bioequivalency studies, support the safety of HEARTGARD
products in dogs, including Collies, when used as recommended.
HOW SUPPLIED:
Best HEARTGARD For Dogs is available in three dosage strengths (See
DOSAGE section) for dogs of different weights. Each strength comes in convenient
cartons of 6 and 12 chewables.