Flea and tick worm infestation can be irritating for your dog and you as a dog owner. The real issue is
not these two things. The real issue is that once the infestation starts, the dog is prone to many other
diseases caused because of them. While most dog owners feel it is very difficult to protect their dogs
and home from such problems, you do not need to worry anymore.
Instead of having to deal with the issue, a very convenient and simple solution to deal with the issue is
by giving your dog the Simparica TRIO chewable tablets. You might be looking at a lot of options
available in the market for such an issue. However, Simparica TRIO chewable tablets for dogs are a
once-a-month solution for all of the issues with your dog.
Can you get Simparica Trio without vet prescription?
In most countries, prescription medications like Simparica Trio require a valid prescription from a licensed veterinarian. This is because these medications contain potent active ingredients that can have both beneficial effects and potential risks. A veterinarian's expertise is necessary to determine if the medication is appropriate for your dog's specific health needs and to ensure proper dosing and usage.
While regulations and availability can change over time, it's generally recommended to consult a veterinarian to obtain a prescription for Simparica Trio or any other prescription medication. Veterinarians consider factors such as your dog's health history, age, weight, and potential interactions with other medications to make informed decisions about treatment. Trying to obtain prescription medications without a proper prescription can be unsafe for your pet .
If you're interested in using Simparica Trio for your dog, I recommend reaching out to a veterinarian to discuss your dog's health and whether this medication is appropriate for them, then you can return to our website to purchase.
While we don't mandate a prescription for your purchase, we strongly advise consulting your veterinarian before administering any medication to ensure the well-being of your dog.
An insight into what is Simparica TRIO?
Simparica TRIO is a chewable tablet that is a veterinary medicine used to treat tick worms, fleas, and a
lot of other infestations on the dog. It comes with approval to use once a month. However, this usage is
also about the dogs and puppies which weigh 2.8 pounds or more. Furthermore, a minimum age requirement
of 8 weeks or older applies to the use of these tablets. This threshold is smaller than
Simparica
's requirement,
which is only applicable to dogs that are 6 months old or older.
The amazing active ingredients inside Simparica TRIO
As Simparica TRIO is veterinary medicine, it has some amazing ingredients inside it. These ingredients
help against all the issues. Out of all the ingredients, there are
3 main active ingredients
, and their roles
are as follows:
Simparica TRIO is not only used for the treatment of flea and tick work infestation. It is also an amazing
medication for the prevention of heartworm disease in dogs. So, Moxidectin is an active ingredient
present in Simparica TRIO. It got its approval for the first time by the FDA in 1997.
It is the main ingredient in Simparica TRIO, for which it is known. These tablets are used to treat flea and
tick worm infestation, the main agent for this treatment and prevention is Sarolaner. It got its approval
for the first time by the FDA for the purpose in 2016.
Simparica TRIO also works for the control and treatment of adult hookworm and adult roundworms.
Pyrantel Pamoate got its approval for the first time by the FDA for the purpose in 1977. So, it is also
present in Simparica TRIO.
Are there any side effects of using Simparica TRIO for the dog?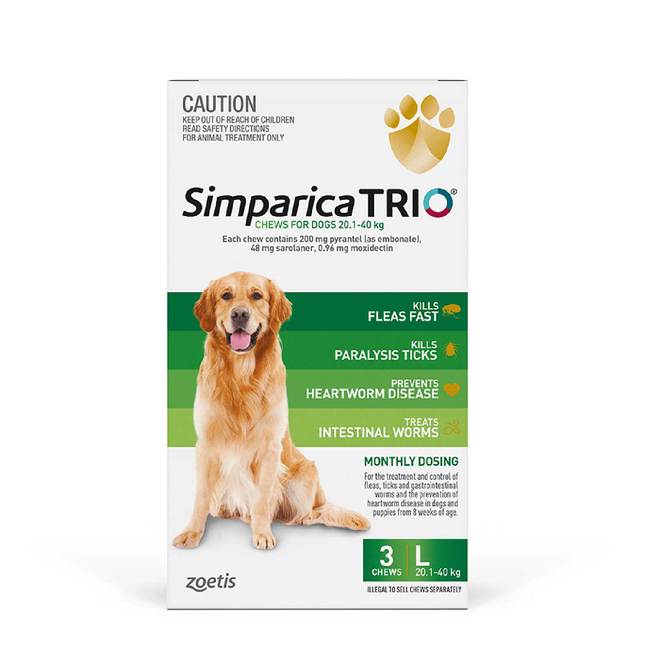 According to the FDA, the ingredients of Simparica TRIO are safe for dogs. There are no major physical or
psychological issues because of these ingredients. While these ingredients are completely safe to use,
there can be some issues sometimes in rare cases. However, there is rarely a case where there is a side
effect because of using Simparica TRIO.
Why do Simparica TRIO hold significant importance?
If you think your dog is living a very healthy life without Simparica tablets for dogs, you need to rethink.
Most of the time, there is an issue that you do not even know about. So, here are some of the ways
Simparica TRIO holds high importance for your dog.
Effectiveness like no other medicine
The effectiveness of medicine matters the most for dogs. There is rarely a medicine that the dogs easily
consume without spitting that out right away. However, it is not the case with Simparica TRIO chewable
tablets for dogs. These chewable tablets come in a flavor so that the dog easily consumes them.
Moreover, it is very effective for the control and treatment of tick worms and flea infestation. The best
part is that it has a long-lasting effect. It means that you only need to use the Simparica TRIO chewable
tablets for dogs once a month.
As we were discussing above, these Simparica TRIO chewable tablets come with a flavor to them. It
makes it easier for the dog to eat these tablets. The best part is that you can easily get the job done
without any major issues whatsoever.
More protection for your dog
Simparica TRIO brings a lot of protection for your dog as it has a lot of active ingredients in it. It
prevents, controls, and treats a lot of issues going around with your dog. Apart from the flea and tick
worm issue and some other physical issues, Simparica TRIO also works for the psychological issues
regarding your dog.
Simparica TRIO is active against acarine and other insects that may infect your dog. It works by working
on the receptors inside the dog that will cause the death of harmful insects.
Final Verdict
Protection of your dogs is very important, and it must be done in the right way. While dogs make
medications difficult, the Simparica TRIO chewable tablets for dogs can ease all the issues for you.
However, finding authentic tablets for dogs can still be an issue as you need a prescription.
Here you do not need to worry anymore as we provide the most authentic and original products without
any prescription. In this way, you can protect your dog at home. So, why are you holding back? Get the
original Simparica TRIO chewable tablets right now
without any prescription
and protect your dog most
effectively.